Canva is an online design tool that aims to make graphic design quick and easy. I've been using the free version of Canva – both on mobile and desktop – for a few years now. So, I'll start by saying that I find the app handy for quick design tasks, such as creating personalized thank you notes. I also recently used it to create a quick but cute birthday party invitation for my son (see below). I have always found the app version to be the same as the desktop version and have used them side by side with no issues.
In this review, I will describe the key features that the free version has to offer. Keeping in mind that we already rate Canva for free as one of the best logo designers and poster makers online, I wanted to try the Pro version and see how it compares. In the company's own words, Canva Pro "was designed to make you look like a pro." But does the Pro version have anything to offer the real pros?
To test the app, I've been using the Pro version for a few weeks, and I've used it to create social media posts for some clients I do social media marketing for, to do a full presentation with animation and to rework my CV. For a comparison between Canva and its main rival, VistaCreate (formerly Crello), see our Canva vs VistaCreate article.
Free Canva: Features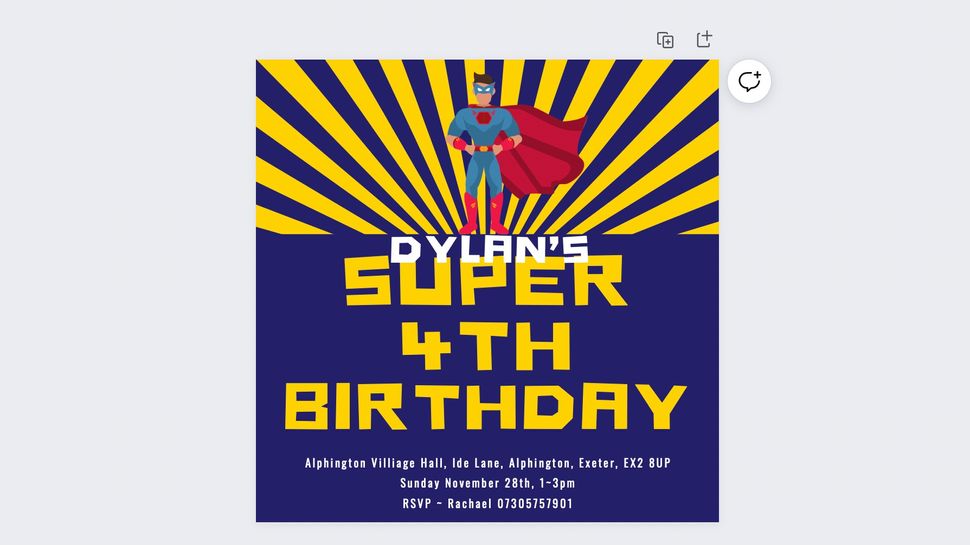 The free version of Canva is really fast and easy to use. I have recommended it to many friends with small businesses who need to create posts, banners, cover photos, etc. fast but elegant on social networks. With the free version of Canva, you simply select a template to work with — a FaceBook cover image for example — then add your own elements, via drag-and-drop, to a pre-made, pre-sized design. It's fast, easy and convenient.
The free version of Canva lets you work with thousands of templates that cover everything from cards to social media cover photos and presentations, but it's limited in that you can't create custom designs. And as I mentioned before, I think it's great for quick creations to send to friends and family.
The main gripe I have with the free version of Canva, and I seriously doubt I'm alone here, is when you're scrolling through the designs to use for something and everyone you like (ie- i.e. the best) are still paid/free on the Pro plan.
So while the free version of Canva is worth seeking out for friends, as well as marketers, bloggers, and the like, it's far too basic and restrictive for creative professionals. Although in all honesty, it's likely that creative professionals are already using other software. Canva Pro, is then intended for the intermediate market. Those who need more than the free version but are unsure about creating their own designs in more serious graphic design software.
Canva Pro: features
Let's start by saying that Canva Pro really has you covered for all your digital creations – from presentations, videos (from YouTube options, Insta reels and LinkedIn ads to video posts) to all types of social media posts and marketing products. (from leaflets and business cards to stickers and tickets). There's also a "Desktop" tab, where you'll find templates for everything from resumes to reports and invoices.
Now let's look at the standout features. To compare to the templates offered by the free version, you see around 400,000 versus 25,000 plus all the additional features mentioned below.
Canva Pro: branding kit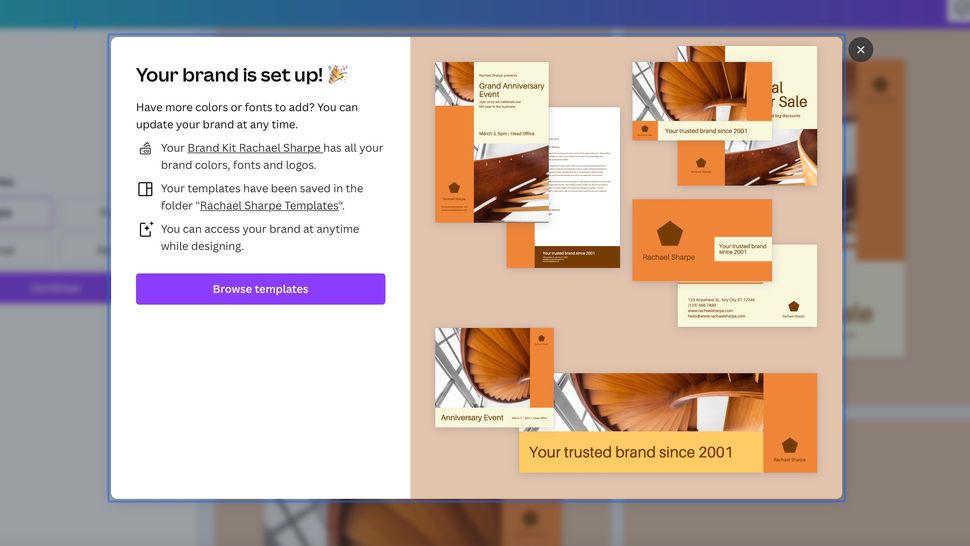 Canva Pro's Brand Kit feature allows you to create a cohesive brand identity, which will allow a company's users to stay on brand with every design they create with the software. Creating your own brand kit is extremely simple and once defined, users and their teams can access pre-made brand fonts, brand logos, brand colors and pre-made templates. For new and expanding businesses looking to establish brand consistency across every touchpoint, this is a standout feature.
Canva Pro: Unlimited Photos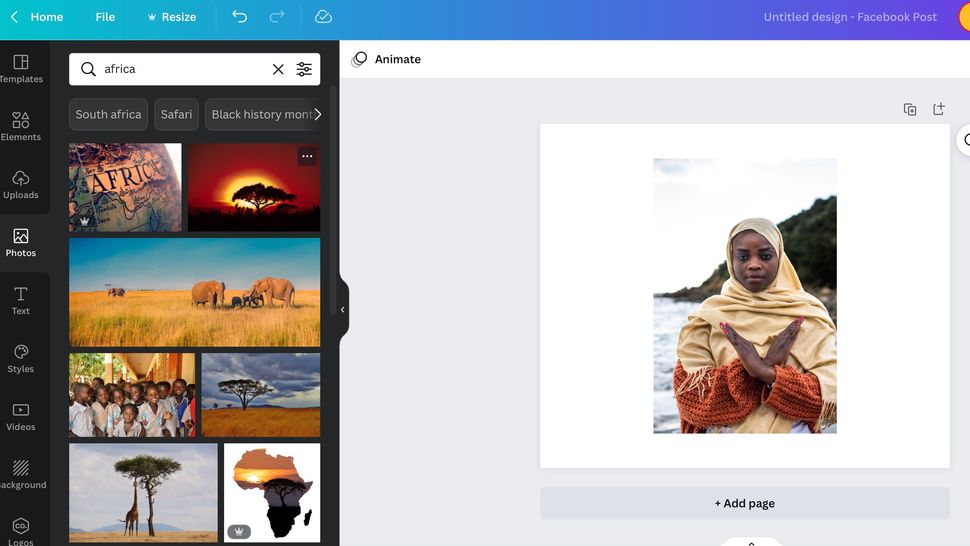 With the Pro version of Canva, you have access to what seems like an endless number of photos, graphics, videos, audio and fonts – Canva says the number is over ten million. The photos available to Pro users are a real bonus with a distinctly premium feel, you actually get an image library included with your subscription. If you're a regular Image Library user, you might find that you could forego purchasing images outside of Canva (see the best photo libraries for your other options).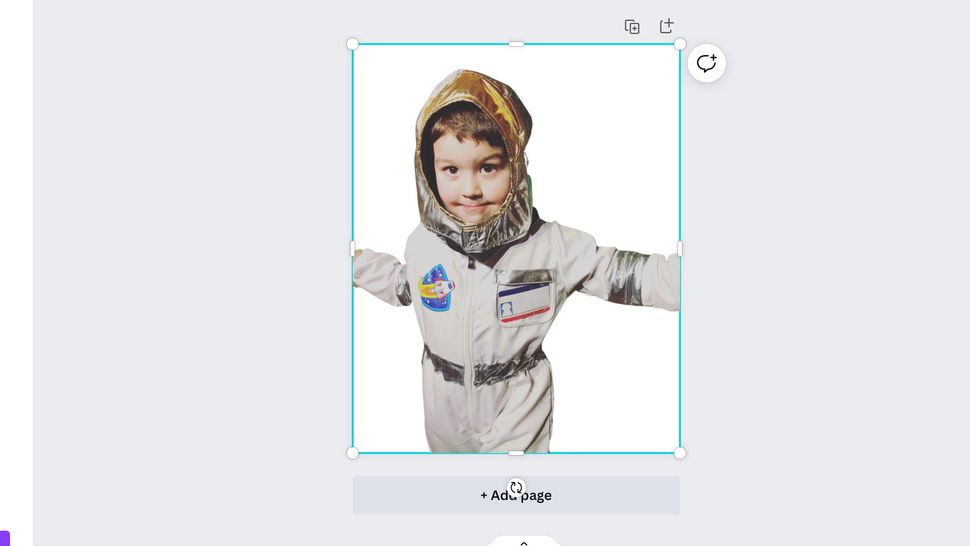 Canva Pro's background removal tool works like a dream and with just one click I was able to create what would normally have taken me about ten minutes in Photoshop. I can see this being a really great feature for anyone promoting products using their own photography. Brightness, Contrast and Saturation are also very easy to use and although they don't provide as much control as you can get through Photoshop, they would suit almost any professional photographer. See the best photo editing software for more options.
Canva Pro: Resize magic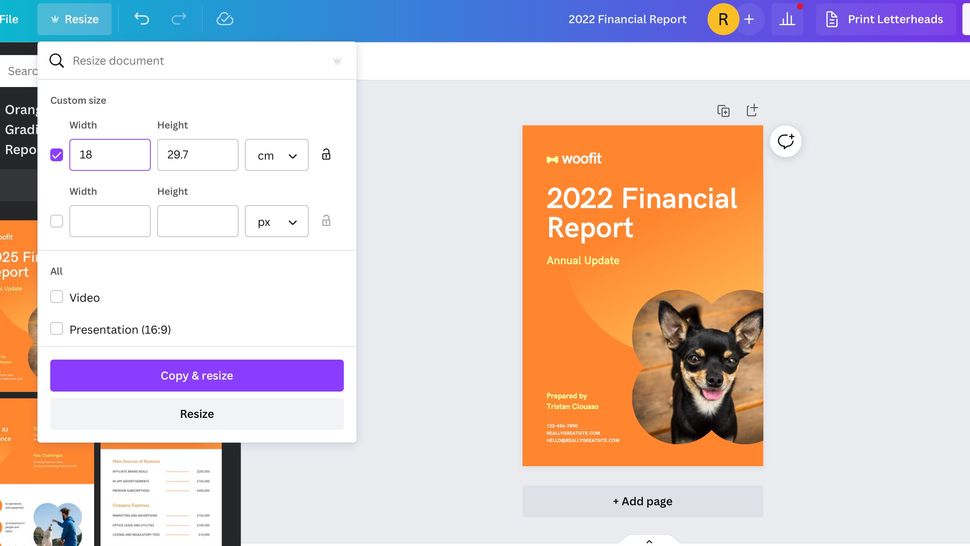 Canva Pro users are probably not professional designers, so re-designing for another use is likely to take time. Not with the Magic Resize tool, another feature we really like, which works on anything you've created in the software – just add your dimensions and it sorts the rest!
Canva Pro: Animation Maker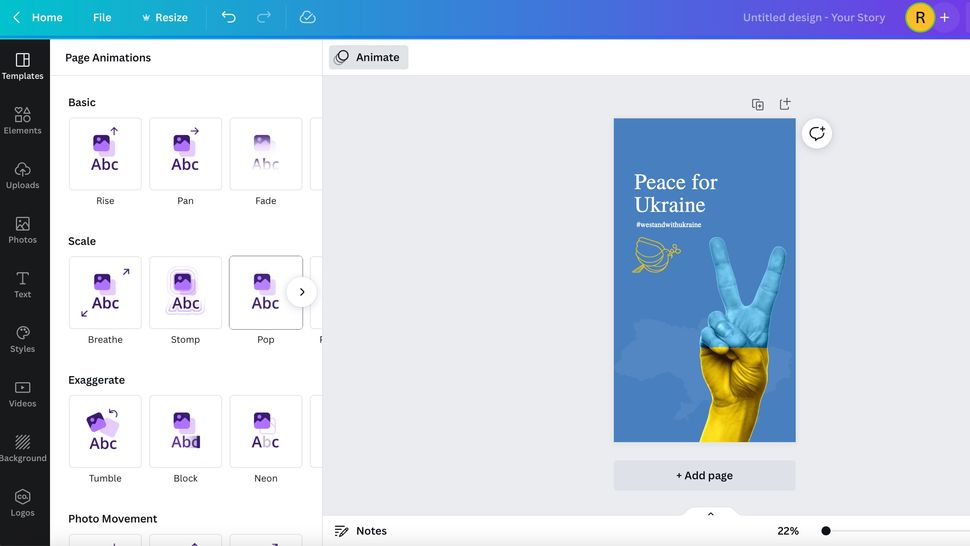 Another feature not present in the free version of Canva is the animation maker, which simply allows users to animate their designs with a single click. All you have to do is press the animate button on any design – from social media posts to work presentations – click once to animate, then download as GIF or video. There are 14 animation styles to choose from, which also gives your style a good choice. It's very easy to use, but obviously not as complex as the best animation software.
More features of Canva Pro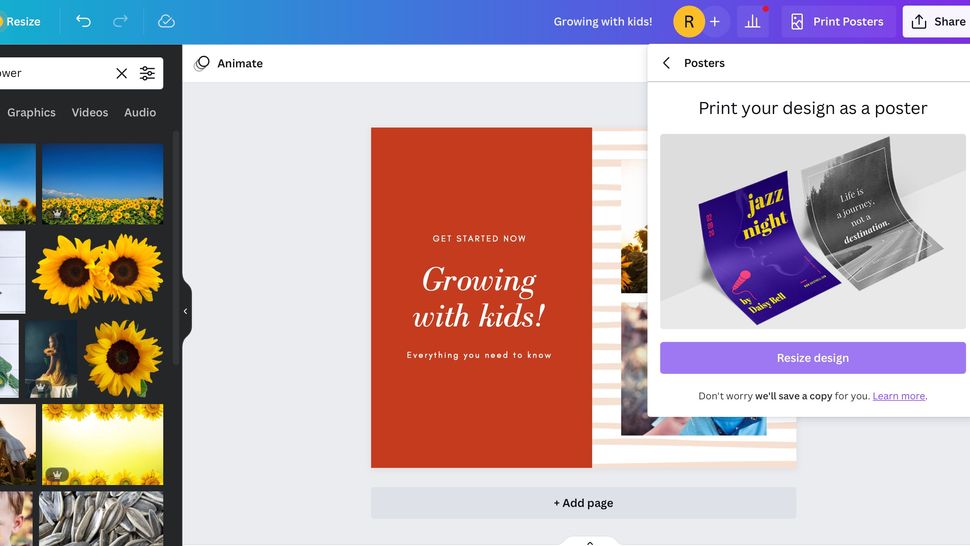 There's a lot to pack into this review as Canva Pro is really loaded with features. Other points that we cannot wrap up without mentioning include: over 3,000 fonts included, an easy-to-use direct print feature, the ability to plan and schedule content directly from Canva Pro (great for social media designs) and version history that allows users to see what has changed and restore versions of designs. Canva Pro also has all the publishing options modern creatives need (including logos with transparent backgrounds), 100GB of storage, and finally, the ability to use Canva Pro on all your devices.
Canva Plans and Pricing
The free version of Canva gives you 250,000 free templates, 100+ design types, and free photos and graphics, you also get 5GB of cloud storage. This will be more than enough for casual users.
With Canva Pro, you get all of that on top of the features we mentioned above. Canva Pro costs $119.99/£99.99 per year, or $12.99/£10.99 per month for up to five people, and a 30-day free trial is available.
To compare, the premium version of Adobe's Creative Cloud Express, which offers similar functionality to Canva (and appears to have been created to compete with Canva and other similar software), costs $9.99 / £10.10 per month and per person, and offers a 30-day free trial – a free version is also available. Photoshop or another single app from Adobe, such as Illustrator, costs you $9.99 / £9.98 per month, although with these apps the learning curve is much steeper.
Serif's apps are cheaper and arguably easier to master than Adobe's offerings. The likes of Affinity Photo or Affinity Designer will set you back $54.99 / £47.99, but that's a one-time fee.
We think Canva Pro is great value for a single person if you're going to be using it a lot, but if you're working with a team of five it's an absolute steal. There's only one Pro plan, but larger companies should also consider the Enterprise plan, which costs $30 / £24 per month, per person and has everything the Pro plan has with a host of benefits centered on teamwork, including integrated workflows. , pattern lock, unlimited storage and 24/7 support.
Should I use Canva?
Canva is very easy to set up and use, so you have nothing to lose by trying it out. You don't even have to download the app if you don't want to, just create an online account and you're good to go. This is especially handy for creating quick graphics to share on social media, or a poster or event invitation.
Should I buy Canva Pro?
We were very impressed with Canva Pro and certainly found it to be significantly better than the free version. But should you get it? Ultimately, it depends on what type of creative you are and how advanced your graphic design skills are.
Someone working as a graphic designer will have little need for shortcuts like the background removal tool offered in Canva Pro and will have no trouble creating their own designs for the plethora of things that Canva Pro offers, without the model element. However, someone like a printer who is looking to grow their business without having to learn complicated software will be delighted with the results they can get from Canva Pro. Its brand specific and encompassing every design and marketing need we can imagine. In a nutshell: if you're a design pro: you don't need it, if you're a creative and need to look like a design pro: you should get it.
Read more: The best infographic makers