My grandfather came from the city of Boryspil, Ukraine. A quarter of the blood in my veins is Ukrainian.
In Ukraine, you cannot separate the people from the land, and you cannot separate the land from the food that is grown there.
The soil of Ukraine is unsurpassed in its fertility. So much wheat is grown there that it is often called the breadbasket of Europe.
"You just need to drop a seed, and it will grow there," said Tetiana Mouzi.
Mouzi is a senior research chemist at Pfizer; she moved from western Ukraine, in the Lviv region, to St. Louis in 1994. She thought she could stay here for just a few years.
" It's a big city. We just fell in love and we're still here," she said.
Although her family loves a wide variety of ethnic cuisines, Ukrainian cuisine is comfort food for her. It's what she turns to when she feels nostalgic; it's what she turns to when times go bad.
"Whatever you ate when you were a kid, you always have that feeling of home. The feeling of that warmth and smell and taste that your mother created and your grandmother. It always stays with you" , she said.
This has never been truer than now.
"With the stress we are under, I made Ukrainian food," she said. "Yesterday I made perogies, and today I might make borscht."
Borsch – the T at the end is the Yiddish spelling – is the unofficial national dish of Ukraine. The hearty beetroot soup was invented there, Mouzi said, despite efforts by some other Slavic nations to claim it as their own. Some historians suggest people have been eating it since the 1300s.
For a dish that has been around for so long, it has almost endless variations.
Beets are a necessity in borscht, of course, but everything else is a matter of taste. It can be vegetarian or contain meat – beef, pork, chicken or even duck. It can be made with or without beans, with or without cabbage.
It should be served with bread, preferably rye bread, as a side dish. Always. It's a must.
I followed a recipe from a Ukrainian food blogger and used beets, beef broth, beef, potatoes, onions and carrots. Root vegetables are very important in Ukrainian cuisine, and this recipe caught my eye because it was loaded with them.
And like everyone who cooks it, I added my personal touch to the dish. I made a doubly rich broth by simmering bones and beef in store-bought beef broth, with a bay leaf, onion, a few carrots, and a few ribs of celery.
Borscht was beety and meaty and strongly flavored, undoubtedly worthy of being the national dish of any country.
Then, naturally, there were cabbage rolls, another common meal in all Slavic lands. Called golubtsi, this version had a typical Ukrainian twist – carrots.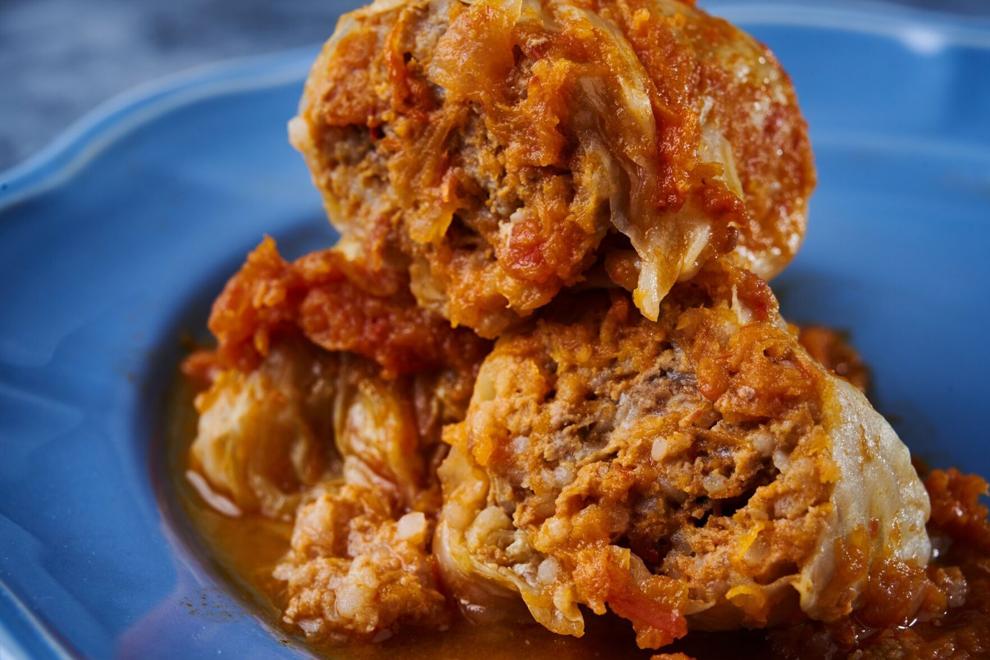 Grated carrots are mixed with the tomato sauce that goes both on the cabbage rolls and inside, where it is mixed with rice and minced meat. I used a mixture of beef and turkey, but you can also use pork or — why not? – chicken.
The carrots add a natural earthy sweetness to the dish which enhances the sweet tasting cabbage. Some other cuisines add raisins or currants to sweeten the dish, but grated carrots seem more organic to the overall flavor.
Then I prepared one of the most famous Ukrainian dishes, which even bears the name of the national capital. Chicken kyiv is the famous dish of chicken breast stuffed with herb butter and fried. There is even a small sculpture of it in the streets of kyiv.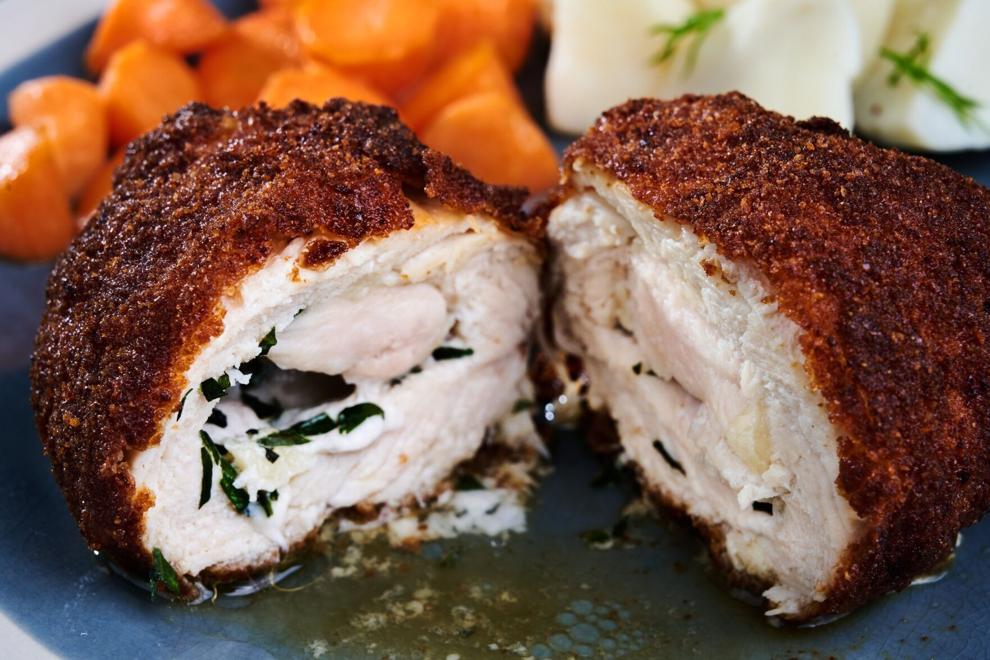 Chicken kyiv was ubiquitous in the 1970s, on the menu of any American restaurant aspiring to at least moderately fine dining. Then, like many things that briefly became too popular, it started to fade.
But when it is well prepared, it is always an exceptional dish. And it's simple in concept. In the center is butter mixed with herbs (I used tarragon, but you can also use chives, parsley, chervil, thyme or rosemary). Wrapped around this is a chicken breast that has been finely pounded.
This chicken and herb butter packet is first dipped in flour, then in eggs and finally in breadcrumbs before being fried until golden brown. When you slice one, the crust is crispy, the chicken is chewy, and the melted butter drips from the middle.
There are, however, a few caveats to doing so. The chicken breasts are much bigger now than they were when the dish was at the height of its popularity. Even if you crush one as thin as possible and wrap it around the butter, you still risk overcooking the outside in the oil before the inside is cooked through.
I cut mine in half horizontally resulting in the correct size. Some stores offer smaller breasts; the Just Bare brand of chickens are smaller and available in several local supermarkets, but the store I went to had none when I arrived.
Most recipes suggest frying the chicken briefly before baking to ensure it is cooked through. But that's cheating and it's not in the spirit of the dish. I fried mine at the relatively low temperature of 350 degrees for a relatively long 15 minutes and ended up with chicken that was perfectly crispy on the outside and cooked through.
For dessert, I made Ukrainian pancakes called nalesniki. I filled mine with a slightly sweet cheese filling, but Mouzi said you could literally put almost anything in it: meat, vegetables, jellies, herbs, mushrooms, fruit, whipped cream – anything.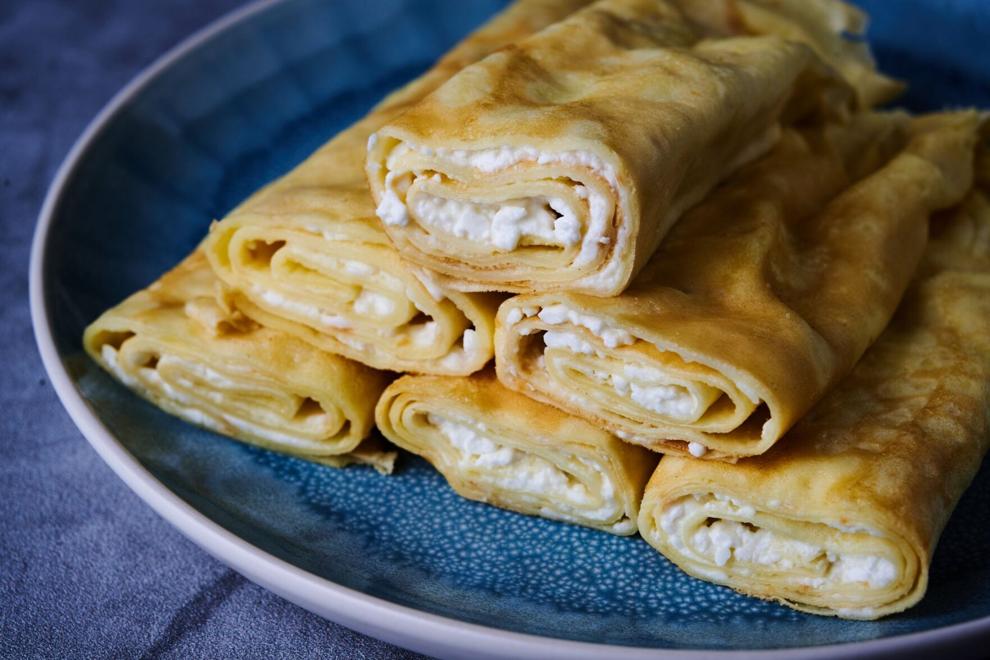 Maybe so, but the filling I made with mixed cottage cheese, cream cheese and sugar was absolutely divine – and I'm not a fan of cottage cheese. It couldn't have been better with the very thin pancakes. I see no reason to fill them with anything else.
Mouzi said her favorite toppings are whipped cream cheese and salmon.
Oh. Yeah, that would be great.
Pancakes, Cabbage Rolls, Borscht and Chicken kyiv – the Ukrainian food I made was truly outstanding. It made a quarter of my heart very proud.