It is difficult to determine the exact number of people who have been canonized or beatified by the Catholic Church, but scholars say the number may be over 10,000. The most recent canonization by Pope Francis was Margherita della Metola in April of this year.
Margherita della Metola was an Italian Roman Catholic and professed member of the Third Order of Saint Dominic who lived from 1287 to 1320.
A satirical Facebook page for God aka The Good God Above has nearly 4 million followers and he asked them an important question on November 1: "I haven't canonized new Saints in a while. Any suggestions?"
The post received over 9,000 responses from people debating which modern heroes are so holy they deserve to be saints. We decided to rank the top 20 voters based on the number of likes they received after being named by a commenter.
Voter number one won by a landslide.
(Note: Some people have been mentioned multiple times, so the posted comment numbers weren't the only numbers we took into account.)
Here are the top 20 people who "God" followers believe should become saints.
---
Alex Trebek (1940 – 2020)

via Facebook / The Good Lord above
"Who should be a saint? For $ 800, Alex. Trebek was the host of "Jeopardy!" for 37 years and one of the most recognizable television personalities of all time. He should be canonized for his calm presence in one of television's most tense game shows.
Lemmy Kilmister (1945 – 2015)

Ian Fraser Kilmister was known around the world under one name: Lemmy. The Motörhead singer and bassist should be canonized for partying as loud as he rocked. "I don't have any regrets" Lemmy once said. "Regrets are unnecessary. It is too late for regrets. You already have, haven't you? You have lived your life. No need to wish you could change it.
George Takei (1937 -)

Takei had one of the greatest second acts in American life. He became a science fiction legend and one of the first Asian-American television stars in the late 1960s as Sulu in "Star Trek". In the age of social media, it has become one of the most popular faces of trending content. He should be canonized for the incredible work he has done for the LGBTQ community.
Pope Francis (1936 -)

Born Jorge Mario Bergoglio, Pope Francis has been one of the most popular and controversial popes of the modern era for his decidedly progressive views. He should be canonized for his work on climate change reform.
Sir Terry Pratchett (1948 – 2015)

Pratchett was an English comedian, satirist, and author of comic fantasy novels, including the "Discworld" series. He should be canonized for celebrating all the weird and strange things that happen in "real life".
Brandon Stanton (1984 -)

Stanton is an American author, photographer and blogger best known for "Humans of New York," a photoblog and book. He should be canonized for his portraits of strangers who share intimate stories of strength, addiction, redemption, regret, and love.
David Bowie (1947 – 2016)

Bowie is one of the most enigmatic artists of the last century whose work brought to light the concept of the alien, be it an astronaut in space or a person living outside of traditional gender norms. Bowie should be canonized for showing humanity that there are no limits on who they can be and how they can change.
Sir David Attenborough (1926 -)

Sir David Attenborough is the undisputed father of the nature documentary. Throughout his eight-decade career, his soft, awe-inspiring voice has served as humanity's guide to nature. He should be canonized for "Life on Earth", his series which examined the role of evolution in nature.
Dr Anthony Fauci (1940 -)

Dr. Fauci, director of the National Institutes of Health, has come to the forefront of American life for his leadership during the COVID-19 pandemic. He should be canonized for not losing his mind during former President Trump's long, rambling and factually inaccurate COVID briefings in 2020.
Ruth Bader Ginsburg (1933 – 2020)

The "Notorious RBG" became a liberal and feminist icon for defending women's rights as a member of the United States Supreme Court from 1993 until her death. She should be canonized for her strongly worded dissent in women's rights cases.
Robin Williams (1961 – 2014)

Williams was one of the most unique artists the world has ever seen. He completely changed American comedy with his intense and energetic improvisational performances on stage, on television and in movies. He was also a talented, critically acclaimed actor in films such as "Good Morning Vietnam", "Mrs. Doubtfire" and "Dead Poets Society". He should be canonized for his childish love of fantasy.
Bob Ross (1942 – 1995)

Ross was the creator and host of "The Joy of Painting", an educational television show that aired from 1983 to 1994 on PBS. His infectious love for art, distinctive hair and soft voice made him the ultimate calming presence. He should be canonized for teaching the world how to paint "happy little trees".
Elon Musk (1971 -)

Musk is the closest we have to a living Bond villain. He's a visionary billionaire who doesn't hesitate to want to change the world, the way we travel to spend money. Like it or not, he should be canonized for creating the Tesla, a high-performance electric car that brought electric vehicles into the mainstream.
George Carlin (1937 to 2008)

Carlin rose to prominence as a counterculture comic in the 1970s, where he was famous for describing the "Seven Bad Words You Can't Say on TV". However, clips of him from the late 90s and early 2000s where he gutted American greed, materialism, and law made him still relevant to this day. He should be canonized for this amazing clip where he discusses that there is a big club and "you are not in it".
"It's called the American Dream because you have to be asleep to believe it."
George Carlin – It's a big club and you're not there!
Fred Rogers (1928 – 2003)
Rogers touched the lives of countless children from 1968 to 2001 as the host of PBS's "Mister Rogers' Neighborhood". The Presbyterian puppeteer, songwriter and pastor revolutionized children's television and should be canonized for changing the way we think about the inner lives of young children.
Jimmy Carter (1924 -)

Carter was President of the United States from 1977 to 1981, and his greatest achievement was the Camp David Accords which ended the Israeli-Egyptian disputes. His post-presidential life has been devoted to humanitarian causes through the Carter Center and Habitat for Humanity. Carter received the Nobel Peace Prize in 2002.
Carter should be canonized for his humility and commitment to service.
Steve Irwin (1962 – 2006)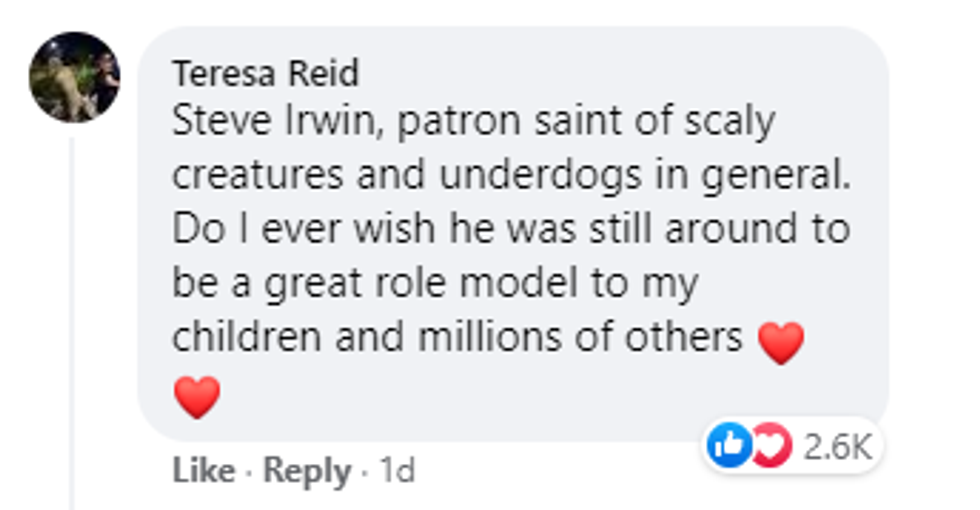 The "Crocodile Hunter" wowed audiences by fearlessly mingling with deadly snakes, spiders, lizards and crocodiles. But in his heart he was a true lover of nature and wildlife, and an educator who shared his knowledge and enthusiasm for animals with millions of people. Irwin should be canonized for his many contributions to the field of wildlife education and conservation.
Dolly Parton (1946 -)

Parton is such a national treasure that when they began tearing down Confederate statues in Tennessee a few years ago, a petition was launched to replace them with statues of Dolly. As a musician, Parton sang some of the greatest hits in country music history, including "I Will Always Love You" and "Islands in the Stream". But she has also been a generous philanthropist, helping charities that benefit children and veterans.
If you received the COVID-19 vaccine, you should thank Dolly. In 2020, she donated $ 1 million to help fund vaccine research at Vanderbilt University Medical Center.
Dolly should be canonized for creating the Imagination Library which has donated over 100 million books to children.
Bernie Sanders (1941 -)

Vermont Senator Bernie Sanders is one of America's most beloved political figures because he has always sided with the oppressed and the working class, whether popular or not. He refused to be bought off by Wall Street and spoke out against the Defense Department, the fossil fuel industry, drug companies and private prisons.
He should be canonized for his relentless pursuit of health care for all Americans.
Keanu Reeves (1964 -)

Reeves is a beloved figure in Hollywood because of his kind and down-to-earth nature. There are countless anecdotes on the internet of Reeves going out of his way to please a fan or inviting a member of the paparazzi to his table to sit with him during dinner. "The Internet Boyfriend" is also a gentleman who never touches women when he takes a picture with them.
Reeves should be canonized for quietly donating millions to children's hospitals.
From your Articles site
Related articles on the web