WINTER PARK, Fla. — For 17-year-old Will Larkins, moving to Florida felt like the end of the world. The California-born teenage activist, whose campaign against anti-LGBTQ+ bills has gone viral, has always viewed the state as "redneck" and "bigoted."
And Larkins, who uses the pronouns they/him, had their worst Florida fears realized during their first few months in the state. They told The Blade in a phone interview that their first semester at Winter Park High School in Winter Park, Florida was "terrible."
"It was small things, but it was very consistent," Larkins said. "It was comments in the bathrooms and in the hallways and at lunch."
Larkins couldn't dodge insults, whether it was whispers behind their backs or insults hurled directly at them. They went to school administrators several times, but the school took no action, according to Larkins. The Blade attempted to reach Winter Park High School several times for additional information about anti-bullying policies, but requests were not immediately returned.
In October of last year, Larkins reached his October tipping point when faced with a series of "horrible things" taking place over the same weekend. It all started with a Halloween party to which Larkins and some friends were invited. "We were very excited," they recall.
Dressed as a Playboy bunny in a Chanel crop top, Larkins recalls walking in and "everything seemed fine" — until it wasn't. About 10 minutes after they arrived, a group of boys surrounded Larkins, shouting anti-LGBTQ+ slurs and slurs.
'You're going to hell,' one said, while another told Larkins to 'f**k children and animals' – an age-old slur gaining popularity in the face of a historic push for anti-LGBTQ+ legislation by right-wing politicians. (Some Republicans have used similar language to defend homophobic and transphobic bills.)
The situation continued to escalate until one threatened to physically attack Larkins if they didn't leave. "It was really scary," they said.
The next day, Larkins went out to cheat or deal with another group of friends. "F**got," a classmate shouted at them.
The harassment followed Larkins to the school bathroom the next day. As they tried to use the restroom, three boys appeared and began making "jokes" about Larkins. "Watch out, we're homophobic," Larkins recalled saying. "You better be careful."
No longer able to manage, Larkins asked the administrators for help – one of whom refused to talk to them because "she didn't feel comfortable", according to Larkins, forcing them to find some. another.
"It really pushed me in a bad place mentally," Larkins said. At one point, they collapsed in their English teacher's class during lunch.
But in this dark place, Larkins found a silver lining. "I wasn't the only person going through this," they said.
Larkins' English teacher told them that "she had been through very similar things when she was my age. The only difference was that his family was very unsupportive.
"My family supports me," Larkins said.
This realization gave rise to the Queer Student Union at Winter Park High School, which Larkins says is trying to "make the school better." Coincidentally, in the early days of the club, the Florida Republican legislatures introduced HB 1557, better known to opponents as the "Don't Say Gay" law.
The bill, officially titled "Parental Rights in Education," will make classroom instruction about sexual orientation and gender identity in kindergarten through grade 3 and allow parents to sue schools or teachers who violate the law. In late March, Republican Florida Governor Ron DeSantis signed the bill, which is expected to take effect before the next school year.
However, days after DeSantis signed a lawsuit against the measure, arguing that the law "would deny an entire generation that LGBTQ people exist and have equal dignity."
Proponents continue to claim that the legislation aims to "empower parents" and improve the lives of children in the state.
After the bill was introduced in early January, Larkins' club began campaigning against it, beginning with an email campaign to Florida State House lawmakers. Soon after, Larkins would begin trips to Tallahassee, speaking directly to lawmakers on the floor.
In an impassioned speech before the Florida Senate Appropriations Committee, Larkins informed lawmakers of the damage such a bill would cause — pointing to the already high number of mental health and addiction issues in the LGBTQ+ community. But Larkins told The Blade they didn't feel heard.
"They don't care," Larkins said. "Republican lawmakers sat there, they couldn't even look me in the eye as I told them my story, and they passed the bill anyway."
A Republican Senator, Jeff Brandes, joined Democrats in voting against the bill, saying he could not "support the bill today in the hope that we can find a way to love our neighbours". But he still easily managed to get out of the committee.
After speaking to the Senate committee, rumors of a statewide walkout to protest the "Don't Say Gay" bill began. Larkins remembers seeing social media posts with general information, but at Winter Park High School, everyone saw them as the one organizing them.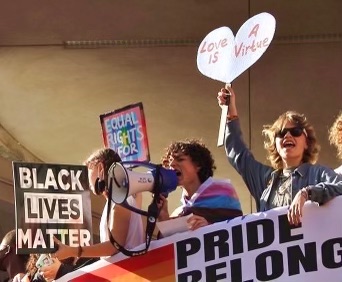 "I was very hesitant," Larkins said, explaining that they feared repercussions from school. But "people expected me to do this," they added.
Larkins reached out to their friend Maddi Zornek, and the two spread the word on social media, made posters and bought Pride flags.
"I thought it was going to fail," Larkins said. "And lo and behold, 9 o'clock strikes and over 600 children leave the classroom."
"It was refreshing, honestly," Larkins added. "I've dealt with so many bulls**ks for being openly queer and expressing myself in a gender-nonconforming way. So to see this school, which I thought was hateful and homophobic, chant en masse, 'we say gay ' and 'trans lives matter', it was so powerful."
The walkout was Larkins' first viral moment, as it garnered national attention. Larkins tries to use this newfound attention and turn it into change.
Activism is no stranger to Larkins; in fact, in second grade, they started a construction paper petition to change the school lunch. "I have always been an activist since I was young," they said.
But now their activism means survival. "It wasn't a conscious choice," they said. "I'm doing what I have to to help my community and make sure I have a safe space at school next year, and people like me have a safe space at school next year, and that my little gay brother also has a safe space like for next year."
Once Larkins had his eyes set on fashion school and Europe, the teenager now feels like activism could be something he sees himself doing in the future. Whether or not they will pursue a career in advocacy remains to be seen, but Larkins shows no signs of slowing down.
Shortly after DeSantis signed the "Don't Say Gay" bill, they went viral again. This time with a lesson on the Stonewall Riots of 1969 after realizing the topic wasn't covered in the class curriculum.
On Tuesday, Larkins stood outside the Seminole County School Board in a meeting "invaded by homophobes saying terrible things."
"I never heard about sexuality or gender identity in school, and that's the problem," they said.
Larkins' activism did more than educate others – it also taught themselves. Florida, for example, cannot be reduced to "rednecks" and "fanatics".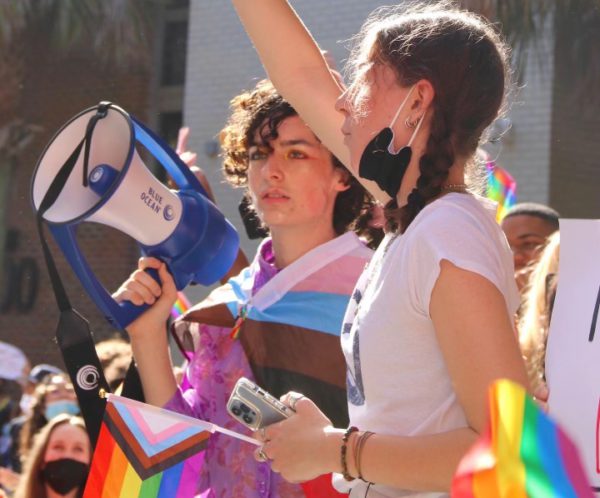 "Florida is not Ron DeSantis. Florida is not the Florida Legislature. Florida is not the loud, hateful people," Larkins said. "Florida is people like me and the hundreds of student leaders leading walkouts across the state of Florida It's the thousands and thousands of people who came together after Pulse Florida is the kids at Marjory Stoneman Douglas High School standing up for themselves and creating one of the greatest movements in modern history. It's Florida.