Beloved by first-time site builders and experienced developers alike, you've no doubt seen the ads or heard people talk about Squarespace as a go-to for building a website. But even though it's so prevalent and so often suggested, is Squarespace really one of your best options?
Often the answer to this question would be prefaced with a "depending on what you want to do…", but the truth is that Squarespace offers a range of customizations, themes, and build options that make it a perfect fit. for just about any site. .
The overall abundance of features and relative ease of use suit almost anyone looking to start a new site.
Where Squarespace falters, however, is in pricing and full customization. Although the price itself is not astronomical, the lack of free plans may deter those who are not yet ready to commit to a web builder.
Additionally, Squarespace doesn't offer many third-party integrations, widgets, or apps, so you're limited to what's provided (15 extensions) directly through Squarespace. Most extensions are for e-commerce.
If you are looking to create a simpler website, this may not be a problem at all. But if you need to expand your site's capabilities, this doesn't give you many options.
Who is Squarespace for?
Squarespace is technically a site builder for almost everyone. Yet they cleverly play to their strengths, positioning themselves as the go-to builder for blogs, e-commerce stores, and portfolios for creatives.
By nature, Squarespace is great for showcasing creative work. Their themes are not only easy to use, but they are also designed to be visually appealing. The best use of Squarespace is to show off products, showcase work, or host a high profile blog.
The lack of widgets and apps is great for less complicated site builds. If your site is a simple online store or an informational website, you'll likely get a more streamlined offering. Too many options and versions, when all you need is something simple, can be a headache.
Squarespace Features
A big part of what makes Squarespace a strong contender in the world of web building is its features. In a market where ease of use must go hand-in-hand with building effective sites, and when there are multiple good website builders out there, it's the features that really do the trick.
Smart models
Squarespace offers a large amount of quality templates, over 100 themes available right out of the box. If you're not sure how to build a website, Squarespace is a godsend for the indecisive or creative among us, and changing themes and templates means you don't lose any content.
If you suddenly realize that you want to give your site a new direction, you can change the theme and the builder is smart enough to substitute your content for you without any loss.
One of my favorite things about Squarespace templates is how sleek and sleek they look. Image source: author
Extensions
While it's hard to compare Squarespace to WordPress with its over 50,000 plugins, the former offers several third-party app integrations called extensions. Depending on your needs, you can add an extension to track shipments, increase social media traffic, automate returns, sync accounting, and more.
Most of these extensions are for e-commerce stores, but they make it easy to customize your site.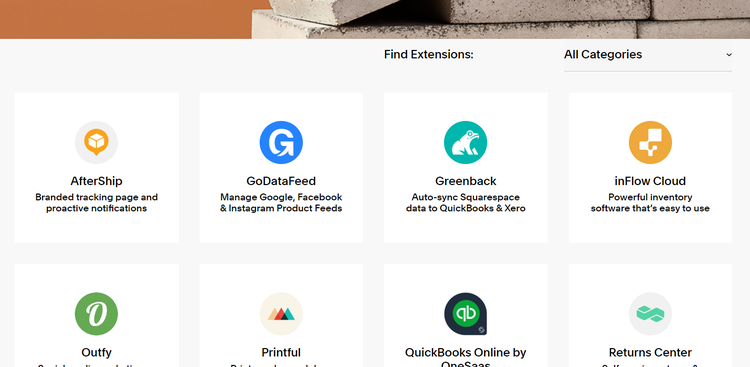 Based on the information you provide, Squarespace will suggest popular extensions or you can search for your own. Image source: author
Integrated blog
Even though WordPress started as the site builders' choice for bloggers, Squarespace actually improves on that.
If your site focuses on blog content, you'll appreciate the ability to schedule posts in advance, allow access to multiple authors, set up an easy-to-use commenting feature, and design a blog of professional appearance.
Managing content with lots of articles is easy with Squarespace, as you can allow multiple writers access at once or schedule scheduled posts in batches.
E-commerce capabilities
There's a reason Squarespace was an early player in the e-commerce game, and one that still holds true today: it's streamlined and built for transactions. Setting up a Squarespace eCommerce storefront, product pages, and payment/shipping options is so easy.
Not only can you use direct extensions to help you manage your customer cycle, but the product page templates are also designed to be essentially foolproof.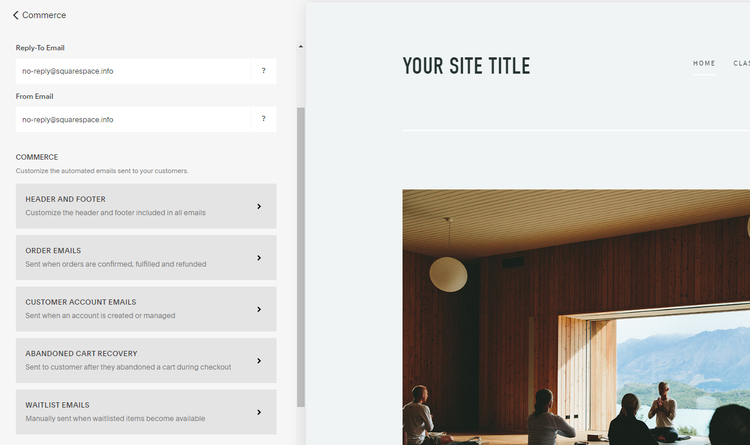 Step-by-step blocks guide you through setting up your storefront. Image source: author
Style Editor
By using the design feature, Squarespace gives you a lot of control over how your site looks without needing to know a lot of HTML.
Fonts are available in the builder via drop-down menus, and you can either select your preferred color by HTML code or use the gradient color selection for fonts and backgrounds. Squarespace gives you creative freedom when it comes to aesthetics.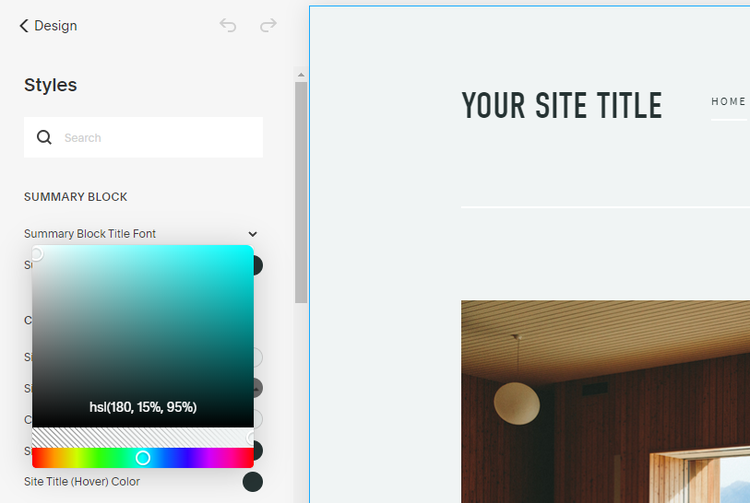 If you are just editing your first theme, you can further customize your theme with the style editor. Image source: author
Image search
Downloading media is quite simple, but what makes it a great feature is the integration of free and paid images. To find free photos, you can use the Unsplash search engine directly on the site builder. For a small fee, you can search and purchase professional images through Getty. These handy features make creating content much easier and much more legal than doing a few hasty Google image searches.
Analytics integrations
I love tools that are integrated under the same site builder, so having my website analytics available in a dashboard view right in Squarespace is such a great feature.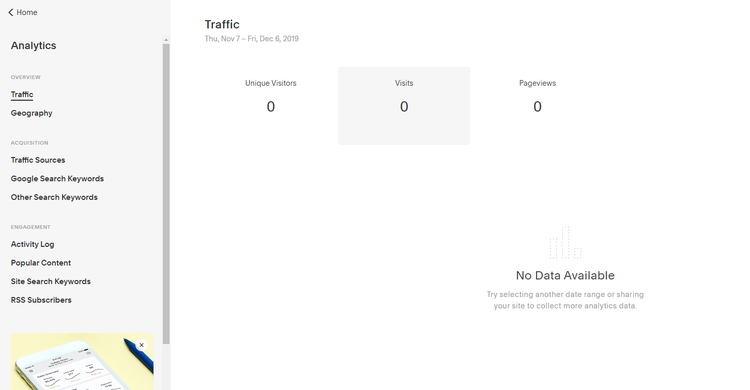 Integrate directly into Google and never lose track. Image source: author
Instead of having to log in separately via Google Analytics, I can simply check all my traffic and keyword ranking stats from my site's dashboard, which also makes it easier to analyze traffic trends and react to these.
The ease of use of Squarespace
As a website builder, Squarespace is quite easy to use. By design, Squarespace's content creation method is primarily sequential and relies on stacking (sectional completion), so if you can make Lego, you can make a website. Squarespace isn't as fully drag-and-drop as Wix, but it's close and a great alternative. The interface is clean and clutter-free, giving you a peaceful place to build from.
One of the reasons I stuck with Appleworks from the early 2000s was that it was so clean to look at, especially compared to Microsoft Word, and looking at a clean slate helped me create better work . Using Squarespace is a lot like that: quiet, clean, and intuitive.
Squarespace Pricing
Squarespace's pricing, while lacking long-term free options, is still quite reasonable.
You start with a two-week free trial, so you're not locked into a system that might not work for you.
After that, you can choose from a variety of plans, the cheapest being $12/month, for the personal plan. The price is a very good deal and allows for unlimited pages. You can go up to $40/month for more advanced features.
Although it's not terribly expensive and literally cheaper than the other content management systems we've reviewed, the price is still a bit higher than some other website builders.
Working with Squarespace Support
One thing that continues to win over Squarespace fans is their excellent support.
Not only are they available via email 24/7, but they also have live chat on weekdays from 4:00 a.m. to 8:00 p.m. IS with a fast response time. When you start a conversation, you first get an automated message acknowledgement, but then you're connected to a live person within minutes.
There are also tons of resources in the Help Center if you want to solve a problem on your own.
Although there is no phone support, I personally find live chat support to be better as it allows me to see my problem stated in words and gives me time to try suggestions. real-time advisor without the awkward pauses and mumbling "uh wait a sec…" there would be sentences if I was on the phone.
Benefits of Squarespace
When you use Squarespace, you have the peace of mind of knowing you're getting high performance value for a relatively low cost. In the grand scheme of things, a maximum of $40/month isn't going to make or break a company's budget, and you'll get what you pay for.
Your template set is solid, with plenty of options that look professional and clean. Squarespace lets you really personalize your site with these photography-heavy templates, which means you can incorporate images and graphics that are unique to your brand.
The backend is super simple and easy to use, so you don't have to waste time or money learning complex coding or paying an expert. Just get started or check out a step-by-step Squarespace tutorial to get started.
The features are also all integrated, so you get an all-in-one platform for analysis, support, and more, plus the reassurance that everything is going to work and is designed to work well together.
Squarespace is not for squares
With the ability to work for a range of industries, affordability, and smartly designed features that improve operations, Squarespace is a great choice for a variety of businesses. Although they started out in the world of e-commerce, they have evolved into the top choice for bloggers, creatives, and other service professionals. They have a unique footprint in many niches: bloggers, creatives, entrepreneurs, and online stores.