Introduction
Alphabet (NASDAQ:GOOG) and meta-platforms (NASDAQ:FB) are digital advertising giants with strong market shares in online ad spend estimated at $571 in 2022 (per eMarketer). While the two giants will likely dominate the competition in the near future (Google in search and Meta in social media), I think Google is the best choice for investors who want to capitalize on the increased allocation of advertising budget to digital. In this article, I will explain why Alphabet investors will sleep better than their Meta counterparts.
Social media platforms come and go, but Google will likely remain relevant in the future
Like many social media platforms such as Six Degrees, Blogger, Friendster, MySpace, Yahoo, Pinterest (PINS) and Twitter (TWTR), Meta is facing stalled user growth as the company reports the first drop QoQ of DAUs in 4Q21. Although Facebook has been a sustainable growth story since 2004, it is not immune to the risk of obsolescence as the app struggles to stay relevant with younger generations.
In fact, internal documents released in October 2021 by former Facebook employee turned whistleblower Frances Haugen show the following:
Acquisition of teens on Facebook is low and continues to see lower levels of engagement than older cohorts.
Users born before 2000 are fully saturated when they reach 19-20 years old, while those born after 2000 see delayed saturation as the migration from GI teenagers to FB is extremely modest.
Engagement of young American adults is stable to negative compared to pre-Covid levels.
To keep users engaged, Meta plans to invest aggressively in Facebook Reels. However, adding short videos may not be enough to solve the underlying problem that teens just don't want to be on the same platform as their parents and older siblings. That's why Snapchat and TikTok are the most popular apps among US Gen Z users, and 25% of US Tik Tok users are between the ages of 10 and 19.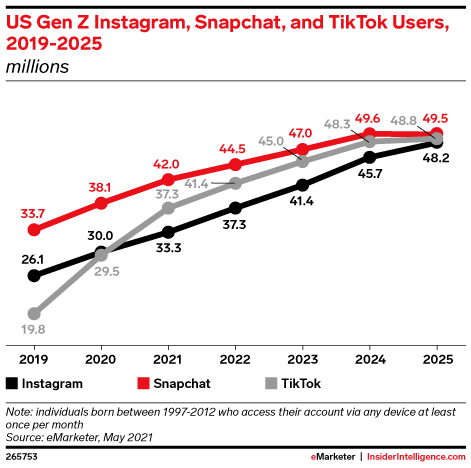 While Facebook's aging user base has become a challenge, Google should remain in a relatively stable/dominant position as search is less responsive to changing consumer preferences. From a user's perspective, the value of a social media platform is determined by whether their friends (or Kylie Jenner) will be on the same platform, while the value of a research is based on the usefulness and accuracy of information provided in response to a search query.
PS: If you're considering buying Meta as a value stock, here are 5 reasons why I think it's a value trap.
Why does Google have a wider moat in search than Meta in social media?
The short answer is that Google has built a massive search index (library) containing hundreds of billions of web pages, which makes it virtually impossible for a new competitor to gain traction because users simply cannot find the results they want. they wish with a smaller index.
Take Danish startup FindX, for example, which started in 2015 as an alternative to Google by creating its own index and algorithm to deliver personalized results. The company quickly found itself in trouble, as major websites like LinkedIn and the Wall Street Journal typically identified non-Google/Bing crawlers as security threats to their sites, preventing new engines search engine to index their content. FindX closed in 2018.
When software engineer Zack Maril studied how websites deal with Google's crawlers by studying 17 million robots.txt files (instructions telling search engine crawlers which web pages they can or cannot access ), he discovered that only the Google crawler could access links containing PDF documents. on ScienceDirect (a popular site for research articles) and that Alibaba.com will only allow Google's crawler to access its product pages.
Then there's DuckDuckGo, the privacy-centric search engine that doesn't collect user data to avoid the "filter bubble" where results are modified by search history and location. This means that any sites you visit through DuckDuckGo will not know where you came from and what keywords you used to find them. While DDG has grown in popularity thanks to greater user privacy awareness, the privacy-focused search engine only has a measly 0.68% market share, far behind the 2.96% of Bing and Yahoo's 1.51%.
Therefore, competing successfully with Google has become more of a chicken and egg problem where you can't get traffic without content and content without traffic. This is why Google has 92% of the search market share while others (Bing, Baidu, Yahoo, Yandex and DuckDuckGo) only have 7.38%. For the foreseeable future, I think that will continue to be the case.
At the end of the line
The search engine is a win-win space and whoever has the highest index and traffic today will likely remain dominant in the future. This is very different from social media where today's popular choice may not always be tomorrow's popular choice, as younger generations may not share the same preferences as older generations. As a result, I think Alphabet investors will sleep better than their Meta counterparts.
Alphabet stock recently saw another wave of selling thanks to a more aggressive Fed pushing the 10-year yield up from 2.3% at the start of the month to 2.7%, which is obviously a drop in valuations. technologies. For a forward P/E of 23x, I think Alphabet's risk/reward ratio remains favorable and the stock should have no problem reaching the consensus price target of $3,400 given the position of Alphabet's industry leader and strong margin profile in a rising interest rate environment where most non-profit tech stocks will struggle.